January 15th, 2019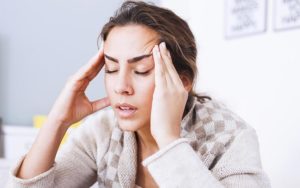 If you suffer from moderate to severe headaches on a regular basis and are unsuccessful in finding relief or do not like the side effects associated with prescription migraine medications, the cause of your headaches could be temporomandibular joint dysfunction or TMD. TMD disorders are a family of problems related to your complex jaw joint. If you have had symptoms like pain or a "clicking" sound, you'll be glad to know that these problems are more easily diagnosed and treated than they were in the past. Some types of TMJ problems can lead to more serious conditions, early detection and treatment are important.
Migraines are recurrent, extremely painful headaches that affect millions of Americans. Seventy-five percent of migraine sufferers are women. Typical migraine episode symptoms include throbbing pain, nausea, sensitivity to light and disorientation. Some migraine episodes can be so extreme that it becomes impossible to perform basic functions such as driving a car or going to work. Finding an effective treatment for recurrent migraine headaches has been a medical priority for many years. If
you suffer from migraine headaches because of TMD and have not found a successful way to manage the condition, Botox may be the solution for you.
Botox works by making the jaw muscles unable to move in the strong, often unconscious jaw movements that cause pain and headaches, relieving jaw tension.
While patients benefit from TMD appliance therapy and mouthguards, adding BOTOX therapy to your treatment can help reduce or eliminate the headaches and facial pain associated with TMD.
Dr. Zimnes has completed a hands-on Continuing Education and Training Course on TMD and facial pain therapy, utilizing the BOTOX procedure from the American Academy of Facial Esthetics. She is entirely focused on the function of the mouth and jaw and does not use BOTOX for cosmetic purposes.
If you are experiencing pain and discomfort associated with TMD and bruxism, BOTOX may be the answer you need. Schedule your appointment with Dr. Zimnes today to see if BOTOX is the right treatment for you!